The Southern California Nikkei Bowling Association was organized to help increase the general interest in the game of bowling within the heritage of the Japanese culture and community — allowing its members to foster and encourage the spirit of good fellowship, keen competition, sportsmanship, and fair dealings in all its bowling activities.
---
NEW CHANGES IN THE SCNBA!
Welcome new officers…
Lynn Matsubara – President
Allan Goya – Vice President
Jeri Ando – Treasurer
Jerry Armstrong – Sergeant-At-Arms
We wish outgoing President Eric Yokoyama the best on his new ventures in Las Vegas and also many thanks to Jane Taguchi for her years of service as our past Treasurer.
---
Tournament average rule change for 2017-18 Season:
All averages established on a Sport or Challenge condition must be adjusted utilizing the USBC Sport Average Adjustment Scale found on BOWL.com. The adjusted average must be used if it is the highest average.
---
CONGRATULATIONS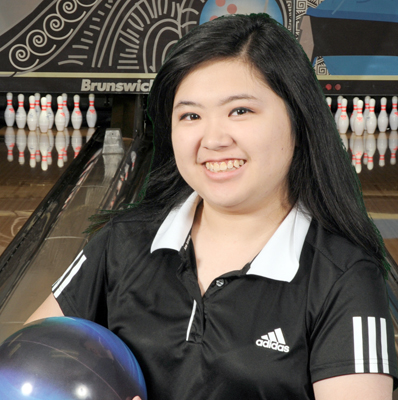 Kylie Shishima
$100 Scholarship Winner
---
LOOKING FOR VOLUNTEERS…
We need  your help!  We are looking for additional tournament workers to help us with lane monitoring (writing scores on recaps, collecting scores for side pots and selling raffle tickets). Our participation numbers are growing and need more staff! Please contact us at info@scnba.com if you are interested. THANK YOU!!
---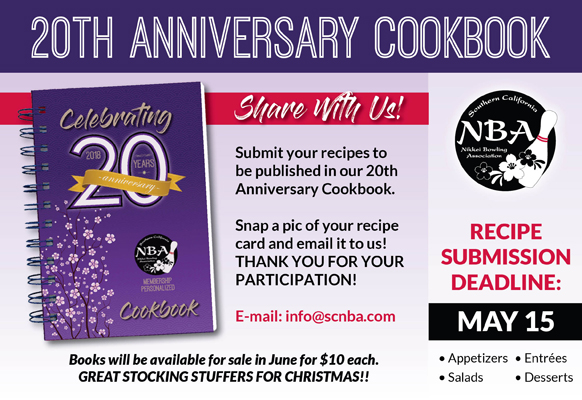 Thank you to the following recipe submitters!
Lily Ikegami • Linda Ukita • Sandra Bovey
Due to the lack of submissions, we will be changing this cookbook to an online cookbook. Please continue to send us your recipes!! Thank you!!
---
THANK YOU 2017 CRAFTERS!
---
UPCOMING EVENTS…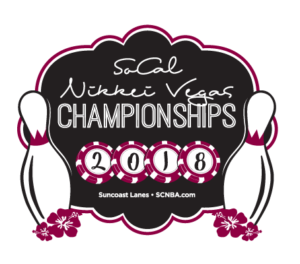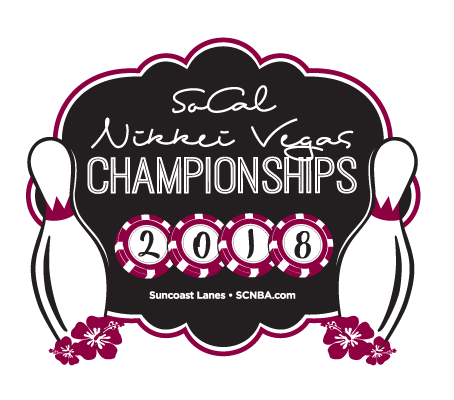 SUNCOAST LANES, Las Vegas
June 23-24, 2018
Schedule posted…
NOTE: Trump is supposed to be speaking at a fundraiser on Saturday at Suncoast. Not sure of the exact time, but you may want to arrive early in case there is extra security to go through.
TRIO TEAM EVENT – Sat, 10am
BIG KAHUNA TRIOS TEAM SURVIVOR EVENT – Sat, 1:30pm
(Kahuna walk-ins accepted if all three bowlers are scheduled to bowl in Singles or Team event)
SINGLES – Sun, 10am
---

LINBROOK BOWL
Sunday, July 15, 2018
11am
Deadline: July 1
Open to first place Nikkei league champions!
Entries now available…
---
OPEN SINGLES EVENT
LINBROOK BOWL
Sunday, August 5, 2018
11am
Deadline: July 25
Separate Open & Senior Side Pots
Senior Pots will be split into two divisions:
Aged 50-59 & Aged 60+
---
AMF BEVERLY LANES
Sunday, November 18, 2018
10am
Entries now available…
Deadline: November 1
QUALIFYING: All teams bowl 10 games baker style moving pairs after each game
FINALS: The final top 5 teams qualify to the Stepladder Finals. Each match will be total pins for 2 games + applicable handicap.
---
2018 Officer Appreciation Luncheon
Saturday, February 10
Marie Callender's, Gardena
Thank you Nikkei League Officers for attending!

USBC INFO
300 and 800 honor score awards are once in a lifetime.

Turn in honor forms for recognition with USBC. Rings are optional to purchase for multiples. 

All USBC membership ends July 31 including cards purchased in the Summer of the current season.
Download USBC FAQs here.
BUY YOUR USBC MEMBERSHIP CARD EACH YEAR!
By joining USBC, you will become a part of a family of almost two million members with access to the most exclusive offers, tournaments and opportunities available to bowlers throughout the United States.  At USBC, there are many benefits to being a member: