Open to all SCNBA Bowlers.
All participants must have current SCNBA membership.
$500

A

DD

E

D P

RI

Z

E MO

N

E

Y F

ROM

 TH

E 

SCNB

A!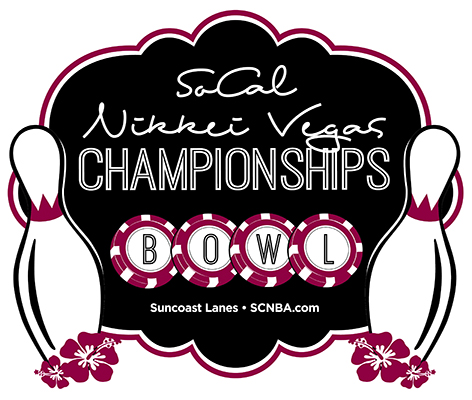 9090 Alta Drive
Las Vegas, NV 89145
(702) 636-7111
June 24-25, 2023
USBC Certified
Payout based on 1:8 entries
Handicap: 90% of 220
FREE On-site Ball Raffle for Team and Singles!
Entry fees can be paid via check payable to: SCNBA or
Zelle payment to: [email protected].
Note: If there is no verifiable average, the bowler must enter with 220 scratch.
Saturday, June 24

TRIO TEAM EVENT
10:00am

Entry Fee: $120 per team
3 games on same pair of lanes
Any Combination of bowlers
Team Max: 615
Max: 32 teams

Fantasy Team Pot Available on-site for everyone – even spectators!


BIG KAHUNA
of the SCNBA
TRIOS TEAM SURVIVOR EVENT
1:30pm

Entry Fee: $120 per team
Max: 32 teams
3 games moving pairs after each game.


Walk-ins welcome if already entered from Trios Team or Singles.


(Based on lane availability)

Sunday, June 25

SINGLES EVENT
10:00am

Entry Fee: $40 per person
4 games moving pairs after game #2
Max: 96 bowlers

Ragtime Doubles Available on-site
for singles bowlers only
ONLY A DRY TOWEL FOR CLEANING MAY BE USED DURING COMPETITION. ELIMINATION OF BALANCE HOLES: Bowlers may have up to five holes for gripping purposes and all must be used on every delivery. Any bowling ball that does not meet USBC specifications will subject the bowler to disqualification of all tournament scores. We reserve the option to do random spot checks and we may be reported to check equipment by another bowler. Visit BOWL.com to download the Non-conforming Bowling Ball List.
---
PAST CHAMPIONS
Location
Event
Champions
2022
Suncoast
Cancelled due to COVID-19
2021
Suncoast
Cancelled due to COVID-19
2020
Suncoast
Cancelled due to COVID-19
2019
Suncoast
TEAM: Tely Ikehara, Henry Isefuku, Eugene Day
KAHUNA: Tely Ikehara, Henry Isefuku, Eugene Day
SINGLES: Gary Okumura / Tely Ikehara
2018
Suncoast
TEAM: Kyle Fujimoto, Lisa Fujimoto, Collyn Koga
KAHUNA: Stanley Lim, Rosana Kamiyama, Steven Nakauchi
SINGLES: Eric Hsu / Sheila Fujimoto
2017
Suncoast
TEAM: Tarika Onishi, Jamie Rovner, Kevin Valmonte
KAHUNA: Craig Yamasaki, Stefanie Kawasaki, Kent Maruyama
SINGLES: Tommy Yu / Leeanne Jilek
2016
Suncoast
TEAM: Tommy Yu, Daniel Ohara, Mike Lee
KAHUNA: Kevin Valmonte
SINGLES: Wayne Hokama / Marilyn Yamasaki
2015
Sam's Town
TEAM: Lisa Fujimoto, Kyle Fujimoto, Collyn Koga
KAHUNA: Kyle Nakamura
SINGLES: Keith Yamakawa / Karen Iwamiya
2014
Sam's Town
TEAM: Craig Yamasaki, Kent Maruyama, Kevin Sakamoto
KAHUNA: Daniel Ohara
SINGLES: Kyle Fujimoto / Leeanne Jilek
2013
Sam's Town
SINGLES: Miles Yokota / Jamie Rovner
KAHUNA: Miles Yokota
DOUBLES: Ryan Mangahas / Kurt Valmonte
SR SINGLES NO-TAP: Glenn Matsuda / Michiko Kondo
2012
Texas Station
TEAM
Priscilla & Keith Yamakawa, Jamie Rovner, Scott Critchfield (A-Div)
Art Haraga, Michiko Kondo, Curtis Oba, Yosh Tomita (B-Div)
DOUBLES
Jamie Rovner / Scott Critchfield (A-Div)
Tom Yoshida / Michael Yoshida (B-Div)
SINGLES
Terence Chang (A-Div Men)
Carin Fujitani (A-Div Women)
Glenn Matsuda (B-Div Men)
Mina Ikegami (B-Div Women)
ALL-EVENTS
Terence Chang (A-Div Men)
Carin Fujitani (A-Div Women)
Glenn Matsuda (B-Div Men)
Michiko Kondo (B-Div Women)