HARLEY'S VALLEY BOWL
July 10, 2022
CONGRATULATIONS…
1st Place:  Gardena Bowl
Harbor City Nisei / 2021-22
Harbor City Nisei #2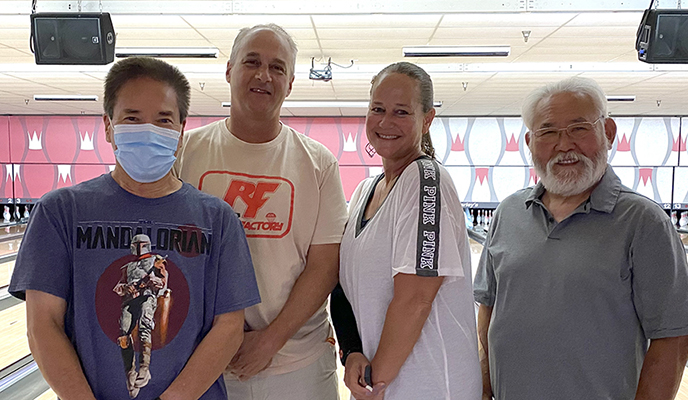 Tommy Yonemine, Dan Matis, Cyndi Castile, Jim Shimizu
2nd Place: Action Lanes
SGV Nikkei Mixed Family / 2021-22
1/2 Pocket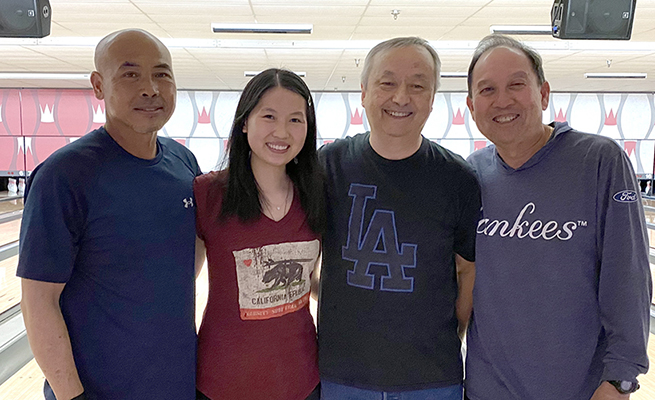 Jerry Lam, Angela Lam, Jay Culver, Allen Lau
Thanks for Bowling!!
---
TOURNAMENT BOWLING BALL WINNER:
JIM SHIMIZU
(Steve Cook Bowling Supply)
PRISCILLA YAMAKAWA
(900 Global ball of choice)
HARBOR CITY NISEI LEAGUE BALL WINNER:
Rick Wozumi
---
This year we took league champions from two seasons due to the COVID shutdown. Winners from 2019-20 and 2021-22 were eligible to participate.
14 possible teams are eligible. Each championship team from each of the Nikkei leagues will be invited to participate in a championship event at the end of the season, winner take all! It will be a four man event, so leagues that are trios or five member teams will have to adjust slightly, i.e., using members from their 2nd place teams. (SCNBA membership waived). We hope to see all leagues participate as it will be a fun competition to see who is really the best of the best in the Nikkei World!
The Champion team will determine where the location will be for following year. The winning team receives a custom embroidered SCNBA shirt as well a bowling ball donated to raffle to their home league in the fall – a nice way for the entire league to benefit from their league champions!